Sale!
Windows 11 Pro Key Global
Product Details
Brand: Microsoft
Availability: In Stock
Delivery: Key – Instructions will be emailed. Delivery time from 30 minutes to 6 hours after order payment.
Language: Multi-language.
Key Windows 11 Pro 64 bit used permanently on 1PC. Reinstalling win is still active.
License Period: Lifetime
Description
Windows 11 is an upcoming major version of the Windows NT operating system developed by Microsoft that was announced on June 24, 2021, and is the successor to Windows 10, which was released in 2015. Windows 11 will be available on October 5, 2021.
Windows 11 has all the power and security of Windows 10 with a redesigned and refreshed look. It also comes with new tools, sounds, and apps.
So far, it's shaped up to be an incredible and promising operating system, even if there are still opportunities for deeper improvements. This promises to be the Windows version that everyone loves.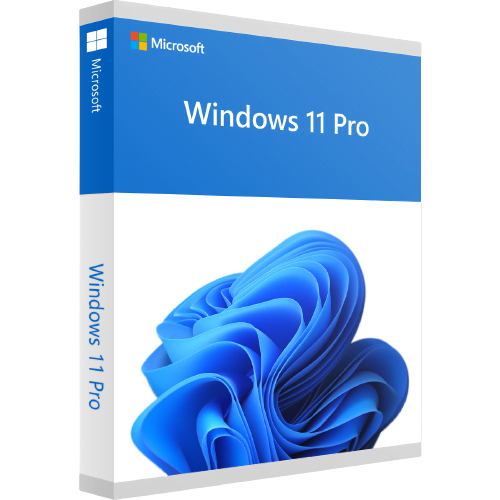 About Windows 11 Professional Activation Key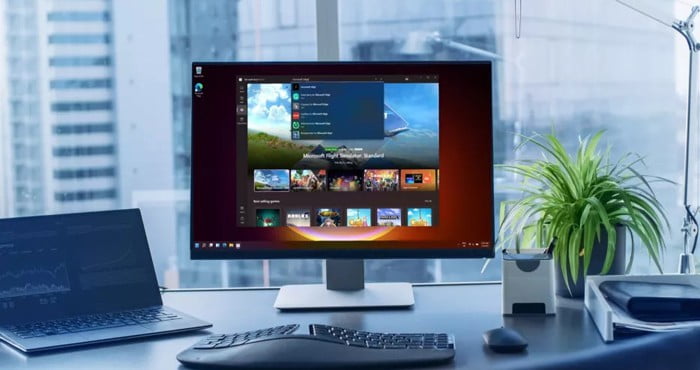 Buy the key once, and you can use the computer for a lifetime.
The Windows 11 Professional Activation Key has a genuine license provided by Microsoft.
Offer permanently usage, reinstall Windows without losing copyright.
Commitment to a lifetime warranty.
Refund 100% if the key does not work.
Ensure stable running on laptop, desktop.
The biggest new features in Windows 11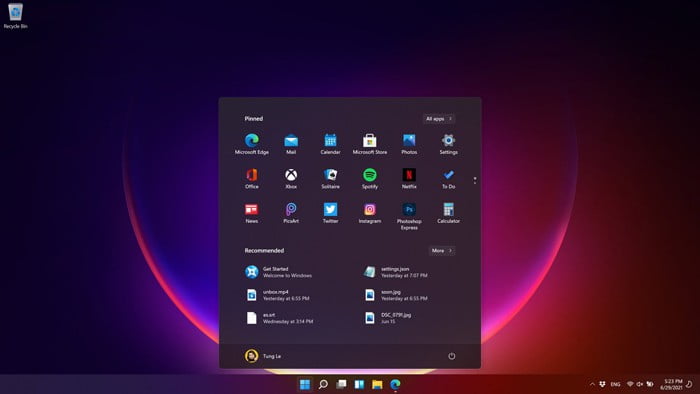 Windows 11 has a new, more Mac-like interface.
Windows 11 looks nicer with rounded corners for all windows, the Taskbar icons in the middle, simpler icons, and more elegant Settings dialogs, but it doesn't feel totally alien or require a whole new process the way Windows 8 did. The new interface's Windows 11 is attractive.
Windows 11 integrated Android apps.
The Store gets a slick design refresh. In addition to apps, the Store offers Movies and TV shows as well as games. A marquee upcoming feature is Windows 11's ability to run Android apps. By allowing Android apps on Windows 11, Microsoft hopes to give consumers more options and developers a larger audience.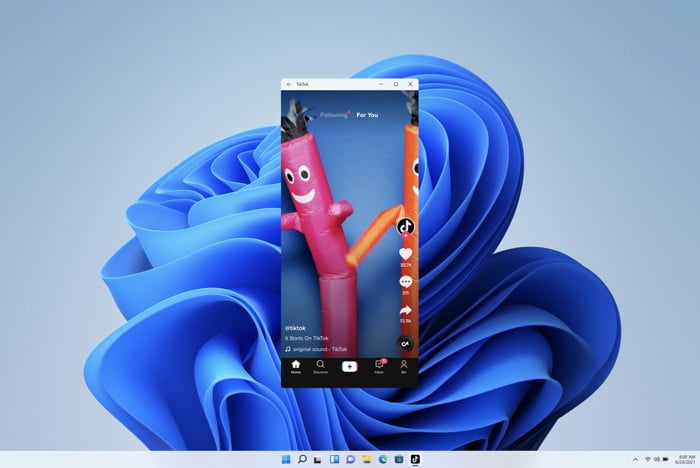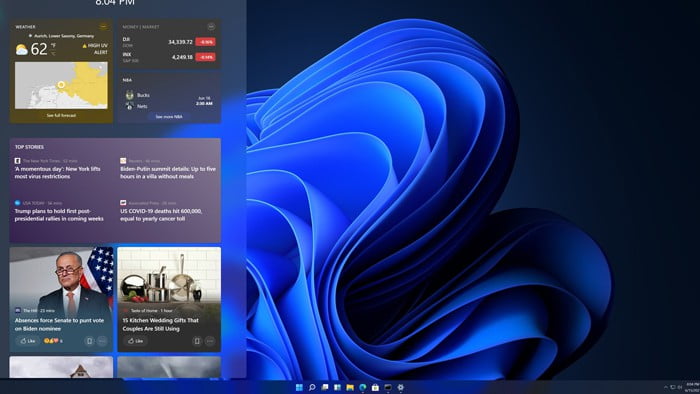 Windows 11 will also introduce Widgets, small graphical apps that provide information at-a-glance related to topics like news, weather, sports, stock market and more. These Widgets will be easily accessible directly from the Windows 11 taskbar for quick reads and will work somewhat like the News and Interests menu on the Windows 10.
Microsoft Teams integration Windows 11.
Microsoft Teams has become an essential part of many people's workflows during the last couple of years. Windows 11 will come with Microsoft Teams built into the OS. In other words, you won't have to download any app. Instead, you will be able to launch the Teams app from the taskbar and reach people across Windows, macOS, iOS, and Android without tweaking anything else.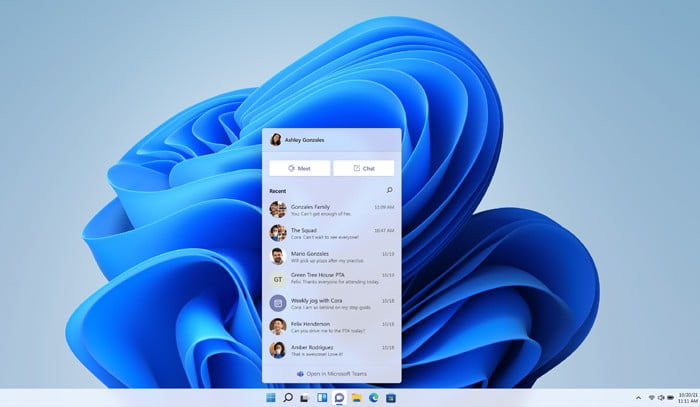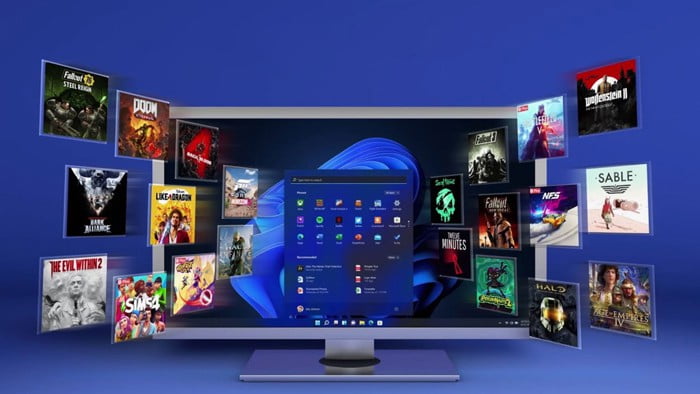 Xbox tech for better gaming.
Windows 11 will be "The best Windows ever for PC Gaming."  Microsoft claims that Windows 11 will be the fastest option for gamers, with two technologies being exclusive to the latest OS: Auto HDR and DirectStorage. Microsoft is also improving the Xbox experience in Windows 11. The new Xbox app is now integrated into Windows 11, offering quick access to Xbox Game Pass games, the social parts of Xbox network, and the Xbox store. 
Easier transition from monitor to laptop, and better multitasking with Windows 11.
Multitasking is a huge part of the new Windows experience. Windows 11 is set to take multitasking to a whole new level with Snap Layouts and Snap Groups. Snap Layouts lets you arrange your opened windows into different layouts. Once you have found the perfect layout, you can group windows with a feature Microsoft calls Snap Groups. By grouping the windows, you can easily minimize them and bring them up again with one click. Snap Groups will also retain their layouts even if you rearrange your monitor layout.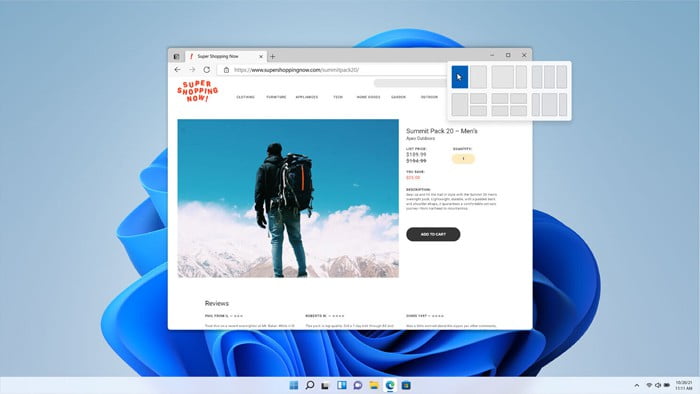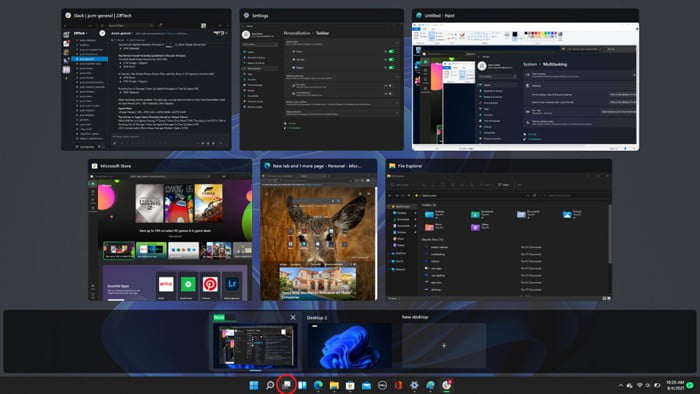 Better virtual desktop support.
Windows 11 will let you set up virtual desktops in a way that's more similar to MacOS, toggling between multiple desktops for personal, work, school or gaming use. You can also change your wallpaper on each virtual desktop. Simply put, Virtual Desktops will help you manage your desktop better, and we are all for it.
Why you should use Getdrive.Net's Windows 11 Pro Key?
How to Download Windows 11
You can download Windows 11 at Microsoft's official website here:
https://www.microsoft.com/en-us/software-download/windows11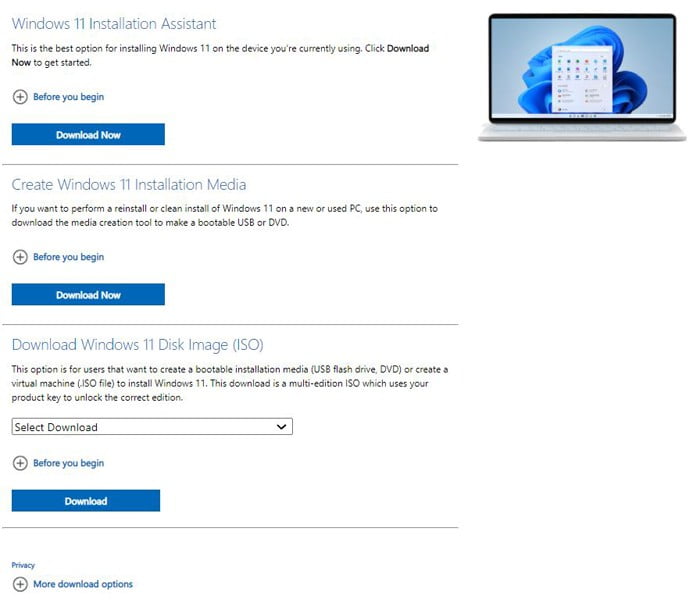 How To Activate Windows 11?
Step 1. Open "Settings".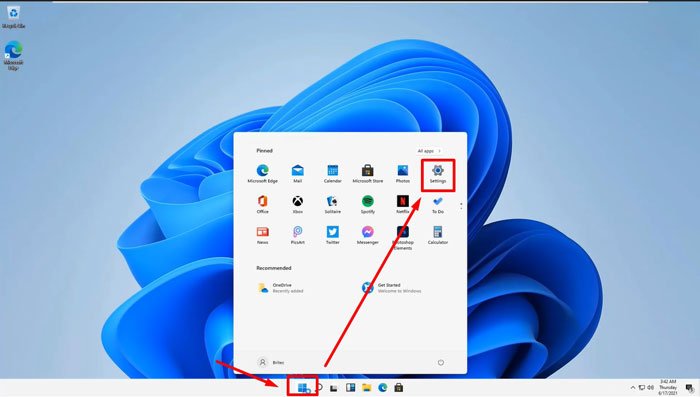 Step 2. Click on "Windows isn't activated. Activate Windows now" .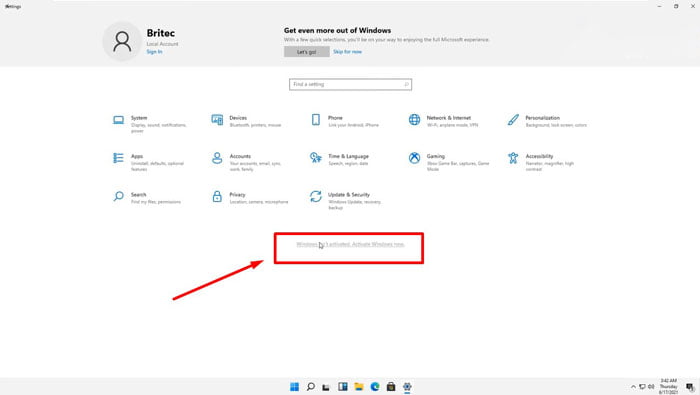 Step 3.  Click on "Change product key".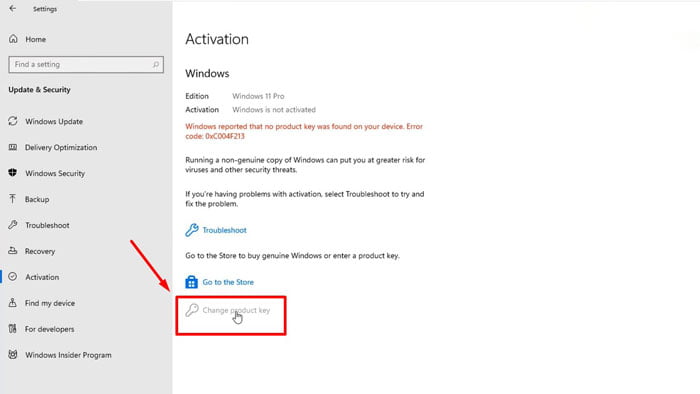 Step 4. Type the 25-digit product key sent to you after purchase.
PRODUCT KEY: XXXXX-XXXXX-XXXXX-XXXXX-XXXXX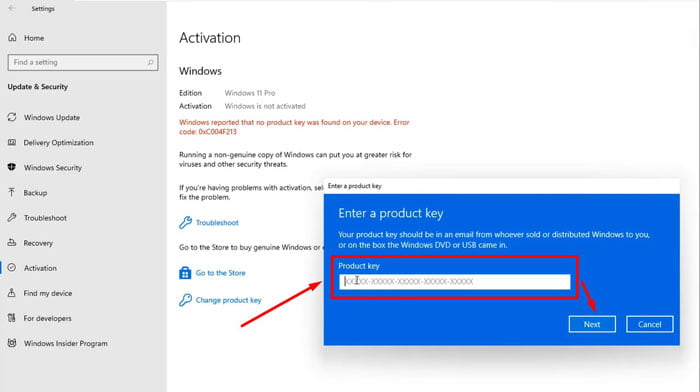 Click "Next" to complete the process and activate Windows 11.
Step 5. Click "Activate" then click "Close"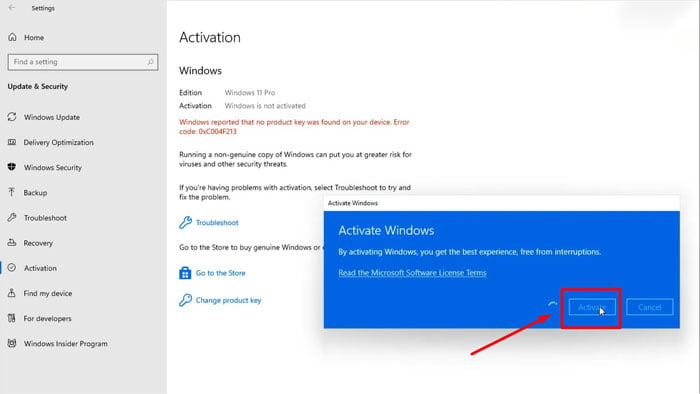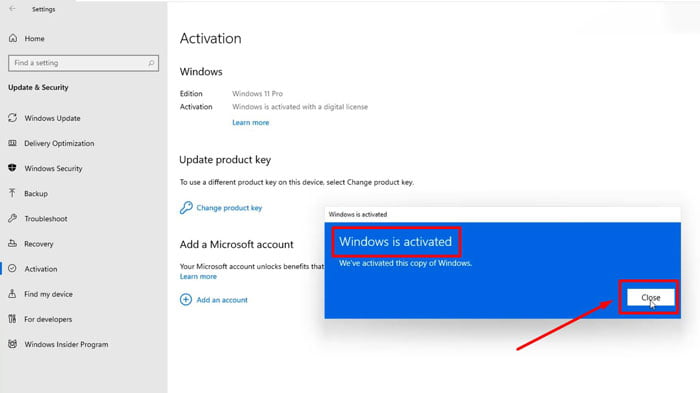 Complete the Windows 11 Pro key activation process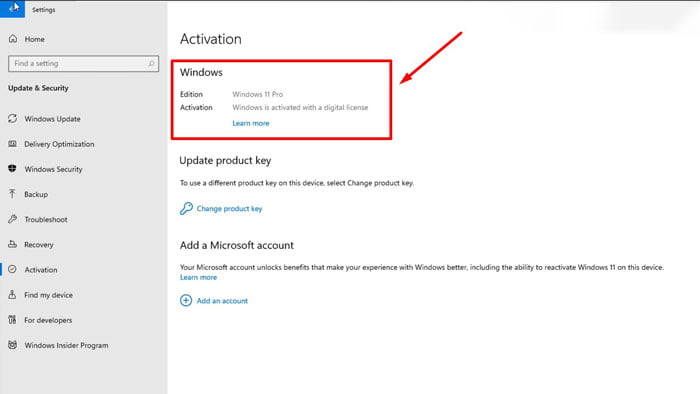 Windows 11 system requirements
These are the minimum system requirements for installing Windows 11 on a PC. If your device does not meet these requirements, you may not be able to install Windows 11 on your device.
Processor : 1 gigahertz (GHz) or faster with 2 or more cores on a compatible 64-bit processor or System on a Chip (SoC).
RAM : 4 gigabyte (GB).
Storage: 64 GB or larger storage device Note: See below under "More information on storage space to keep Windows 11 up-to-date" for more details.
System firmware: UEFI, Secure Boot capable. Check here for information on how your PC might be able to meet this requirement.
TPM: Trusted Platform Module (TPM) version 2.0. Check here for instructions on how your PC might be enabled to meet this requirement.
Graphics card: Compatible with DirectX 12 or later with WDDM 2.0 driver.
Display: High definition (720p) display that is greater than 9" diagonally, 8 bits per color channel.
Internet connection and Microsoft account: Windows 11 Home edition requires internet connectivity and a Microsoft account.
Switching a device out of Windows 11 Home in S mode also requires internet connectivity. Learn more about S mode here.
For all Windows 11 editions, internet access is required to perform updates and to download and take advantage of some features. A Microsoft account is required for some features.
What our customers say about Windows 11 Pro Key?
I ordered windows 11 pro and was happy to see that I can use PayPal for payment. I always feel safer using PayPal for any online purchases. Within 5 minutes after I completed my details, their email arrived with the product with instructions for setting up the product. I have activated it successfully.
Thank you so much, I like this Windows 11 interface so much, it's so beautiful. I bought the windows 11 activation key immediately. The shop is very reputable and the customer service is very good. Thanks shop again!
Delivery was quick. I would recommend to anyone who needs an affordable license for Windows 11 Pro. And now I have activated Windows 11 and experienced its amazing features. Thanks very much!
Windows 11 is amazing, with lots of cool and exciting new features. Getdrive is reputable and enthusiastic. Their products are very good quality. I appreciate the quality of your products and services. I will recommend your website to my friends.
Why does Windows 11 Pro have such a reasonable price?
Here are the reasons why Windows 11 Pro have such a great price:
We buy from big sale in the world
We join the excellent software gift programs
We have a substantial Key store
We purchase and exchanges genuine copyright keys
We always offer cheapest prices
We specialize in providing Windows 11 Pro licenses for users in every corner of the world at the best price.